Hampton Park Playground Replacement

Hampton Park is now open for play! This park receives a new playground, benches, accessible picnic table, and a concrete path to improve the site and play area accessibility. Hampton Park is the fifth playground replacement since 2014.
Cary Park District Receives $1.1 Million ITEP Trail Grant
On May 11, 2018 the Cary Park District was awarded a $1,104,000.00 Illinois Transportation Enhancement Project (ITEP) Grant from the Illinois Department of Transportation to construct a 1.4 mile trail at Hoffman Park.
This trail extension will connect to the existing 2.1 miles of trail at Hoffman Park and provide for a continuous loop throughout the park, as well as, connections to the Meyer-Lafarge gravel pit which is in its final stages of restoration and the recently completed Route 31 trail.  Once constructed, the Park District will manage a total of 6.5 miles of trail throughout the community which link many local residents to parks, neighborhoods, natural areas, and several Cary community resources. It is expected to be constructed in 2020.
The Cary Park District wishes to thank State Representative David McSweeney, Senator Dan McConchie, Village of Cary, Village of Trout Valley, Village of Lake in the Hills, and McHenry County Conservation District for their support of the Park District's Hoffman Park Bike Path project.
The ITEP program is an 80% federal/state match with a 20% local match grant program. This program provides ways for people to consider alternative transportation, helps connect communities together, and provides wellness and equal access to recreation opportunities. The Department of Transportation received 218 project applications, of which the Cary Park District was one of 53 municipalities in the state and one of only three park districts to receive an award during this year's grant cycle. In 2010, the Cary Park District received a $546,216 ITEP Grant to fund the 1.70 mile Cary Community Trail.
Kaper Park and Lions Park Revitalization Projects – updated April 24, 2018
This summer construction will begin at both Kaper and Lions Parks. Improvements to Kaper Park include the replacement of Timbertown with a new playground area, restrooms and storage building, splash pad, and a new walkway from the parking lot to the playground. Improvements to Lions Park include ballfield renovations, lacrosse and football field improvements, a refurbished plaza with picnic shelter, benches, spectator bleachers, and the renovation and expansion of restrooms and concession building. Construction will begin in July with completion expected by the end of 2018.
One item that the plans address is the replacement of Timbertown at Kaper Park. Timbertown is approximately 24 years old and despite the maintenance, upkeep, and monthly inspections by Park District staff, the playground has reached the end of its useful life. Replacing this community icon is a challenge. The Park District, with input from residents, has chosen a replacement that will bring the same type of "wow" factor to children that Timbertown always elicited. We plan to make the fence pickets that surround play structure and that were purchased by individuals and families during the fundraising efforts during the original construction in 1994 available to those who would like them back.  When details become available as to when and how the pickets will be returned, we will post this information on our website.
View Final Schematic Design for Kaper Park
View Final Schematic Design for Lions Park
Disc Golf Course Coming to Hoffman Park – updated April 24, 2018

The Cary Park District is in the process of developing an 18-hole disc golf course on 36 acres at Hoffman Park.  The course traverses some of the best landscapes including flat and rolling terrain. Tree hedgerows, old agriculture fields, and farmstead areas create an interesting, challenging, rewarding, and of course fun experience for anyone at any experience level.
The 6-hole family course is short, sweet, and provides an introduction to the sport – perfect for families, those looking for a short game, or who are brand new to playing.
The disc golf course is scheduled to open in August. More information on the park's opening will be provided throughout the summer.
Cary-Grove Park Master Plan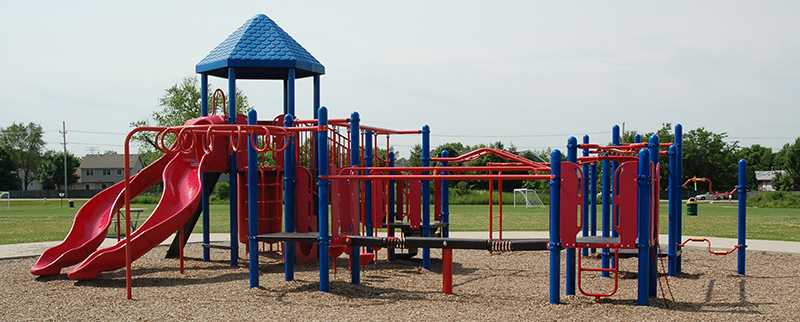 Updating the master plan for Cary-Grove Park was identified in the Comprehensive Master Plan (CMP) Update 2016 as an action item. Completing a master plan for a park site addresses relationships between site amenities and features while opening a dialogue to partnership and grant opportunities. At the April 27, 2017 park board meeting, the Park Board of Commissioners approved the Cary Grove Park Master Plan.
Jamesway Park Playground Replacement

Jamesway Park playground is now open for play! This playground received two new play structures suitable for children 6 months – 3 years and 2 – 12 years, benches, accessible picnic tables, and a concrete path to improve the overall site and play area accessibility.
Candlewood Park and Hillside Prairie Park Playground
The Cary Park District is pleased to announce the opening of the Candlewood Park and Hillside Prairie Park playgrounds. The playgrounds received new play equipment, benches, and two accessible picnic tables plus a concrete path to improve the overall site and play area accessibility. We hope these playgrounds will be a fun place for children and their families to gather, explore, create, play, and discover for years to come.