Join the Team!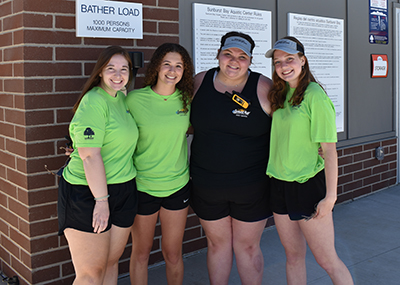 The Cary Park District is committed as an organization to provide exceptional parks and lifelong recreation opportunities.
To apply for a job visit our Careers Page
Current Employment Opportunities
Front Desk Attendant (part time)
The Cary Park District is looking to hire a part-time team member for the Front Desk staff. The ideal candidate should have customer service and computer experience with good communication skills both written and verbal. This position is responsible for greeting patrons, answering questions in person and over the phone along with inputting registrations into the computer registration system and other front desk duties. CPR/AED and first aid certification is required or at least the willingness to obtain and all applicants must be at least 18 years old. The shift for this position is evenings 4:30-10pm 1-2 days a week with 2-4 weekend shifts a month as needed.
Interested candidates should complete an employment application through Careers Page.
Accounting Clerk (full time)
The Cary Park District currently employs 22 full time staff and over 200 part time staff seasonally.  The Cary Park District is seeking a motivated, independent and professional individual to serve the agency in the role of Accounting Clerk.  This position is full time and works primarily during regular day time hours during the week.
This position is responsible for a variety of tasks and duties including but not limited to: prepare invoices for payment, produce/issue accounts payable checks, use an automated financial system to input data, process monthly Purchasing card statements, process refunds, maintain vendor files, review receipt batches from the front desk,  prepare daily deposits, compile and record employee time and payroll data to produce employee paychecks, makes a variety of computations on overtime, accruals, deductions, wage garnishments, etc.; responds to employee and vendor inquiries, creates accounts receivable invoices, generates job specific reports,   assist with the annual audit as needed, order supplies, work closely with all departments and assist the Finance and Administration team as requested.  The selected individual must be able to work with minimal supervision, produce accurate work on time, and be organized.
This individual will work directly with the Director of Finance and Administration as a member of the Finance and Administration Department.  The major emphasis of this position will be on Accounts Payable and Payroll in the Finance Department, with cross training as a backup in other areas of the Finance Department.
Qualifications: A high school diploma with additional course(s) in Accounting preferred.  Minimum of two years' experience in a similar role is preferred.  Proficiency working with Microsoft Excel and an automated financial system is required.
Hiring Range: $37,792 – $47,240 annually DOE
Benefits: Excellent benefit package including IMRF, health, dental, and benefit time off
Close Date: Open until filled
To Apply:  Visit our Careers Page
E.T. KidZone Staff (part time)
The Cary Park District is hiring part-time team members for the E.T. KidZone program, the Park District's before and after school program. E.T. KidZone staff are responsible for assisting in the planning and leading of age appropriate activities for children in grades K – 5. The ideal candidate should have good communication skills (written and verbal) and experience in activity programming and leading children.
E.T. KidZone is offered to students who attend Briargate, Deer Path, Oak Knoll, and Three Oaks School. Hours of work are 7:00 – 8:45 am and/or 3:30 – 6:00 pm.
Benefits:
Employees' children (grades K – 5) attend E.T. KidZone for free!
Complementary Fitness Center membership.
Discounts on Park District programs and memberships.
Interested persons should complete an 
employment application
 and return it to the Community Center, 255 Briargate Road, Cary, IL 60013. The Community Center is open Monday – Thursday, 5:30 am – 10:00 pm; Friday, 5:30 am – 9:00 pm; Saturday & Sunday, 7:00 am – 8:00 pm.
Custodian (part time)
The Cary Park District is hiring for a part time facility custodian. The ideal candidate should have janitorial and customer service experience along with good communication skills. This position is responsible for daily custodial work along with room setups and breakdowns and basic building, small tool, and equipment maintenance at multiple locations within the district. Hours for this position vary.
Interested candidates should complete an employment application through our Careers Page.
Recreation Program Instructors
The Cary Park District is looking for local "hidden talent" to instruct or lead various recreational programs. We are recruiting new instructors with creative ideas. If you have a particular skill or are interested in leading activities, please contact Cary Park District's Superintendent of Recreation at 847.639.6100. You may also complete a Program Proposal Form and fax it to 847.639.6290.