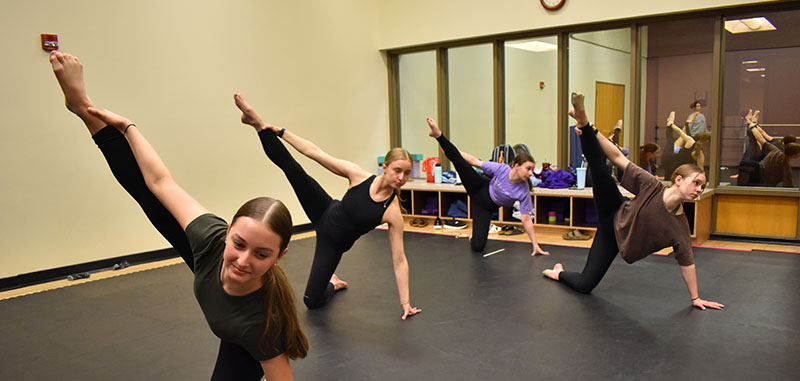 Fall Dance
The Cary Park District dance program will serves children 18 months – 18 years in a variety of new and exciting classes. Students will enjoy learning proper dance technique in a fun and relaxed atmosphere. Our new set of instructors understand that every child is unique and will learn differently from their peers. Classes are always tailored to fit the needs of everyone enrolled. Dancers will learn to release their emotions, no matter what they are, through dance, perseverance, and most importantly fun!
Location
This fall Inspiration Dance Studio will be expanding and adding a third dance studio. Classes will take place at the Community Center (CC), 255 Briargate Road and Sunburst Bay Aquatic Center (SBAC) Oasis Room, 1201 N. First Street.
Registration
Registration is accepted online and at the Community Center.
Payments
In order to make classes more affordable, we have developed a payment plan option. Payments for all classes may be split into 4 monthly payments using the payment schedule below:
| | Due Date |
| --- | --- |
| Payment #1 | September 10 |
| Payment #2 | October 1 |
| Payment #3 | November 1 |
| Payment #4 | December 1 |
Multi Class Discount: The first class a dancer takes will be charged at full price. Additional classes the same dancer takes will be discounted 15%.
Program Add-Ons: Throughout the program additional purchase opportunities such as photographs, videos, flowers, and studio apparel, etc. may become available. It is not required to participate but intended to enhance the program for those who choose to participate.
Skill Placement
In order for all participants to gain the most out of each class, instructors may recommend a higher or lower level class in or-der for your child to be successful in their dance future. Pointe classes will be placement by instructor only. Please contact the Park District for more information and to register for these classes.
Winter Showcase
The Winter Showcase for all classes will take place early December. We are working to finalize the date with one of our District schools to host our event. Rehearsal for showcase will take place the day before. More detailed information will be available as we receive it. A minimal costume fee is built into the price of the session for all classes up through Level III/IV. Dancers will be measured in class during the first couple of weeks to ensure appropriate sizing.
Fall Dance Schedule
Registration is accepted online and at the Community Center.
Location: CC = Community Center, 255 Briargate Road, Cary / SBAC = Sunburst Bay Aquatic Center, 1201 First Street, Cary
* No class dates: 10/31, 11/22, and 11/23
| Class | Ages | Day | Dates | Time | R/NR Fee | Location |
| --- | --- | --- | --- | --- | --- | --- |
| Pre-School Ballet | 3-4 years | M | 9/11-12/4 | 10-10:45 am | $150/$202 | CC |
| Tikes Tap | 2.5-4 years | M | 9/11-12/4 | 4:00-4:45 pm | $150/$202 | CC |
| Tap – Level II | 7-9 years | M | 9/11-12/4 | 4:45-5:45 pm | $183/$254 | CC |
| Intermediate Lyrical | 11+ years | M | 9/11-12/4 | 5:00-6:00 pm | $183/$254 | SBAC |
| Tap – Level I | 5-7 years | M | 9/11-12/4 | 5:45-6:30 pm | $150/$202 | CC |
| Tap – Level II & III | 8-12 years | M | 9/11-12/4 | 6:00-6:45 pm | $150/$202 | SBAC |
| Jazz/Hip Hop I & II | 6-9 years | M | 9/11-12/4 | 6:00-7:00 pm | $183/$254 | CC |
| Intermediate/Advanced Tap | 12-14 years | M | 9/11-12/4 | 6:45-7:45 pm | $143/$214 | SBAC |
| Intermediate Hip Hop | 14+ years | M | 9/11-12/4 | 7:45-8:45 pm | $143/$214 | SBAC |
| Intermediate Jazz | 14+ years | M | 9/11-12/4 | 8:45-10 pm | $179/$268 | SBAC |
| VIP & Me | 1.5-3 years | M | 10/23-11/27 | 9:15-10 am | $50/$75 | CC |
| Special Needs Workout | 11+ years | Tu | 9/12-12/5* | 3:15-4:00 pm | $150/$202 | SBAC |
| Children's Hop Hop | 6-10 years | Tu | 9/12-12/5* | 4:00-4:45 pm | $150/$202 | SBAC |
| Pre-School Ballet | 3-4 years | Tu | 9/12-12/5* | 4:00-4:45 pm | $150/$202 | CC |
| Beginning Broadway | 6-10 years | Tu | 9/12-12/5* | 4:45-5:30 pm | $150/$202 | SBAC |
| Elementary Ballet | 5-6 years | Tu | 9/12-12/5* | 4:45-5:30 pm | $150/$202 | CC |
| Beginning Lyrical | 6-10 years | Tu | 9/12-12/5* | 5:30-6:15 pm | $150/$202 | SBAC |
| Ballet I | 7-8 years | Tu | 9/12-12/5* | 5:30-6:15 pm | $150/$202 | CC |
| Intermediate Ballet | 14+ years | Tu | 9/12-12/5* | 6:15-7:30 pm | $179/$268 | SBAC |
| Jazz/Hip Hop III/IV | 14+ years | Tu | 9/12-12/5* | 6:30-7:45 pm | $219/$308 | CC |
| Pointe | Instructor | Tu | 9/12-12/5* | 7:30-8:30 pm | $143/$214 | SBAC |
| Company | | W | 9/13-12/6* | 4:45-6:00 pm | | CC |
| Advanced Broadway | 14+ years | W | 9/13-12/6* | 6:00-7:00 pm | $143/$214 | CC |
| Ballet Level III & IV | 12-14 years | W | 9/13-12/6* | 6:00-7:00 pm | $183/$254 | CC |
| Pre-Pointe | Instructor | W | 9/13-12/6* | 7:00-7:45 pm | $150/$202 | CC |
| Advanced Jazz | 14+ years | W | 9/13-12/6* | 7:15-8:30 pm | $179/$268 | CC |
| Advanced Hip Hop | 14+ years | W | 9/13-12/6* | 8:30-9:30 pm | $143/$214 | CC |
| Jazz/Hip Hop Level I | 5-8 years | Th | 9/14-12/7* | 4:00-5:00 pm | $183/$254 | CC |
| Special Needs Dance | 11+ years | Th | 9/14-12/7* | 4:00-5:00 pm | $183/$254 | SBAC |
| Elementary Ballet | 5-6 years | Th | 9/14-12/7* | 5:00-5:45 pm | $150/$202 | CC |
| Ballet Level II | 8-10 years | Th | 9/14-12/7* | 5:00-6:00 pm | $183/$254 | SBAC |
| Ballet Level III | 11-13 years | Th | 9/14-12/7* | 6:00-7:00 pm | $183/$254 | CC |
| Jazz/Hip Hop Level II | 8-10 years | Th | 9/14-12/7* | 6:00-7:00 pm | $183/$254 | SBAC |
| Jazz/Hip Hop Level III | 11-13 years | Th | 9/14-12/7* | 7:15-8:30 pm | $219/$308 | CC |
| Advanced Lyrical | 14-19 years | Th | 9/14-12/7* | 8:30-9:45 pm | $179/$268 | CC |
| Music & Movement | 2.5-4 years | Sa | 9/16-12/9 | 8:15-9:00 am | $167/$250 | CC |
| Creative Ballet | 4-5 years | Sa | 9/16-12/9 | 10-11:00 am | $183/$254 | CC |