"Love Camp ECHO! We have done other camps and this by far is the best. We especially love that nature is the focus."
"This was the first year my daughter has attended Camp ECHO and she cannot wait to go back next year!"
"This is a great program! My kiddo loves going and making new friends!"
"You always do a fantastic job of hiring counselors that work well with the kids. I appreciate seeing the roster and knowing that many of them are college aged students focusing on early education, physical fitness related or other health related majors. They are setting a great example for younger ones. Thank you!"
– Comments taken from Camp ECHO parent surveys.

Camp ECHO and ECHO Extreme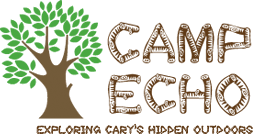 Camp ECHO, for grades K-8th is ready and waiting for you this summer! This camp is jam-packed with a variety of non-stop activities that will keep your child going for the entire day.
The majority of the day is located outside where children play, exercise, gain independence, learn new skills, make friends, and have a memorable summer. In addition to arts, crafts, sports, and games, campers will explore the outdoors through fishing, hiking, scavenger hunts, and much more. Plus, campers swim at the Park District pool and go on a field trip each week.
Register for Camp!
Camp registration is available online or by completing the Camp ECHO and/or a Before and After Camp registration form and submitting by mail, fax, or registering in person at the Community Center.
Early Bird Registration Extended Through May 31
The early bird saves money! Register for camp by 5:00 pm on May 31 to receive $10 of each session registered. This option is available on select camps. Prices below already reflect the $10 discount.
Multi-Session Reward
Attend six or more sessions of camp per child to receive a $25 Park District gift certificate. Multi-session rewards can only be earned on select camps.
Flex Camp
Same great camp experience for families who are looking for only a couple of days of camp each week.
Before & After Camp
Extend your child's day of fun with before and after camp activities. Before and after camp is available from 7:00 - 8:30 am and 3:30 - 6:00 pm. A separate registration form and payment of additional fees are required.
Session
Grades
Days
Dates
Early Bird R/NR Fee
Before 5 pm May 31
Regular R/NR Fee
After 5 pm May 31
Camp ECHO Session 1:

CANCELLED



.
.
.
.
.
ECHO Extreme Session 1:

CANCELLED

.
.
.
.
.
ECHO Flex Session 1

:

CANCELLED

.
.
.
.
.
.
.
.
.
.
.
Camp ECHO Session 2:

CANCELLED



.
.
.
.
.
ECHO Extreme Session 2:

CANCELLED



.
.
.
.
.
ECHO Flex Session 2:

CANCELLED



.
.
.
.
.
.
.
.
.
.
.
Camp ECHO Session 3
K-5th
M-F
6/15-6/19
$124/$186
$134/$196
ECHO Extreme Session 3
Six Flags Trip CANCELLED
6th-8th
M-F
6/15-6/19
$140/$210
$150/$220
ECHO Flex Session 3
K-8th
M&W
6/15 & 6/17
N/A
$67/$101
.
.
.
.
.
.
Camp ECHO Session 4
K-5th
M-F
6/22-6/26
$124/$186
$134/$196
ECHO Extreme Session 4
6th-8th
M-F
6/22-6/26
$140/$210
$150/$220
ECHO Flex Session 4
K-8th
M&W
6/22 & 6/24
N/A
$67/$101
.
.
.
.
.
.
Camp ECHO Session 5
K-5th
M-F
6/29-7/3
$124/$186
$134/$196
ECHO Extreme Session 5
6th-8th
M-F
6/29-7/3
$140/$210
$150/$220
ECHO Flex Session 5
K-8th
M&W
6/29 & 7/1
N/A
$67/$101
.
.
.
.
.
.
Camp ECHO Session 6
K-5th
M-F
7/6-7/10
$124/$186
$134/$196
ECHO Extreme Session 6
6th-8th
M-F
7/6-7/10
$140/$210
$150/$220
ECHO Flex Session 6
K-8th
M&W
7/6 & 7/8
N/A
$67/$101
.
.
.
.
.
.
Camp ECHO Session 7
K-5th
M-F
7/13-7/17
$124/$186
$134/$196
ECHO Extreme Session 7
6th-8th
M-F
7/13-7/17
$140/$210
$150/$220
ECHO Flex Session 7
K-8th
M&W
7/13 & 7/15
N/A
$67/$101
.
.
.
.
.
.
Camp ECHO Session 8
K-5th
M-F
7/20-7/24
$124/$186
$134/$196
ECHO Extreme Session 8


Camp Challenge Trip CANCELLED



6th-8th
M-F
7/20-7/24
$140/$210
$150/$220
ECHO Flex Session 8
K-8th
M&W
7/20 & 7/22
N/A
$67/$101
.
.
.
.
.
.
Camp ECHO Session 9
K-5th
M-F
7/27-7/31
$124/$186
$134/$196
ECHO Extreme Session 9
6th-8th
M-F
7/27-7/31
$140/$210
$150/$220
ECHO Flex Session 9
K-8th
M&W
7/27 & 7/29
N/A
$67/$101
.
.
.
.
.
.
Camp ECHO Session 10
K-5th
M-F
8/3-8/7
$124/$186
$134/$196
ECHO Extreme Session 10
6th-8th
M-F
8/3-8/7
$140/$210
$150/$220
ECHO Flex Session 10
K-8th
M&W
8/3 & 8/5
N/A
$67/$101