"Love Camp ECHO! We have done other camps and this by far is the best. We especially love that nature is the focus."
"This was the first year my daughter has attended Camp ECHO and she cannot wait to go back next year!"
"This is a great program! My kiddo loves going and making new friends!"
"You always do a fantastic job of hiring counselors that work well with the kids. I appreciate seeing the roster and knowing that many of them are college aged students focusing on early education, physical fitness related or other health related majors. They are setting a great example for younger ones. Thank you!"
– Comments taken from Camp ECHO parent surveys.

Camp ECHO and ECHO Extreme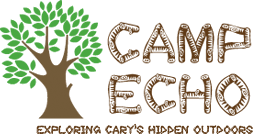 Thank you for a great summer 2020! Information on Camp ECHO/ECHO Extreme for summer 2021 will be available April 2021. To receive that information as soon as it is available, please subscribe to receive our e-newsletters or follow us on Facebook.