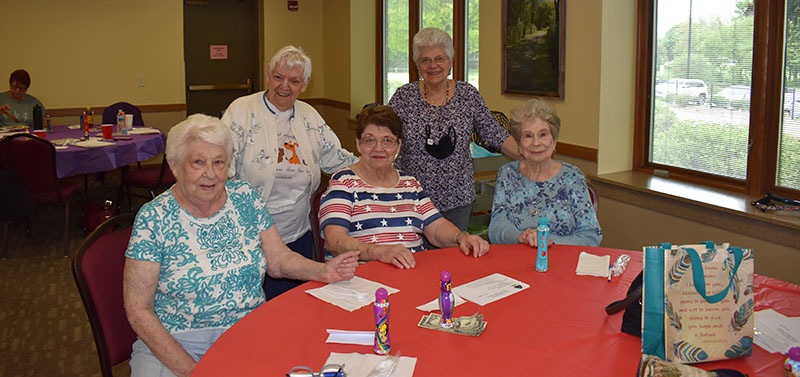 The Cary Park District's Senior Programming is held at the Community Center located at 255 Briargate Road, Cary. Registration for programs is accepted online at carypark.com and at the Community Center. For more information on senior programming, please call the Cary Park District at 847-639-6100. July August Senior Newsletter
Armchair Traveler
Spend a couple of hours on an epic adventure. Experience all the sights, sound, and culture and never leave your seat. Enjoy a presentation on various destinations brought to you by Cary Travel Express and the national chapter of Armchair Travelers. The journey continues on Tuesday, August 9 as we explore Mexico. Join us from 11:00 am – 1:30 pm at the Community Center. Registration is required.
Lunch Out Group
Join the Cary Park District for lunch and great socialization at area restaurants. Meals are off the menu and self pay. You may take the Cary Park District bus from the Community Center or drive on your own and meet the group at the restaurant. On Tuesday, August 30 we will eat at The Hampton Social in South Barrington. Registration is required to be included in the reservation. The bus will depart from the Community Center at 11:15 am and we will return at approximately 2:30 pm. The fee to take the bus is $5 for Cary Park District residents and $6 for non-residents. Whether you are taking the bus or meeting at the restaurant, registration through the Park District is required to be included in the overall reservation count.
Souper Duper Fridays

Enjoy a free bowl of soup and socializing with friends on Friday, August 12. Then for $5 enjoy Bunco. Registration ends Friday, August 4 and you must be registered to attend. Souper Duper Friday's are sponsored by The Pointe at Eastgate and prepared by the Kitchen Krew Volunteers.
Harner's Lunch and Visit to Past and Present Shoppes

Enjoy a self-pay lunch with friends at Harner's. Harner's offers delicious food and a yummy bakery full of mouth watering treats you can bring home. Once we are finished with lunch, head to the Past & Present Shoppes to browse the 16 amazing vendors of antiques, gifts, and one of a kind must haves. Transportation is by Park District bus. Lunch and shopping are self-pay. This trip is held on Thursday, August 25 from 10:00 am – 4:00 pm. Registration fee is $12 for Cary Park District residents and $14 for non-residents. Registration deadline is August 18.
Blood Pressure Checks
Friday, August 5 from 9:00 – 10:00 am
Receive a FREE blood pressure check provided by a registered nurse. No appointment necessary.
Book Club
Thursday, August 11 from, 10:00 – 11:00 am
The group will be discussing Small Great Things by Jodi Picoult
Canasta Club
Thursday, August 11 and 25 from 11:30 am – 1:30 pm
Cary Canaries Glee Club
Tuesdays, August 2, 9, 16, 23, and 30 from 10:00 – 11:15 am
Chair Yoga
Tuesdays, August 2, 9, 16, 23, and 30 from 9:00 – 10:00 am
Craft Club
Tuesdays, August 2 and 16 from 11:00 am – 2:00 pm
Dominoes Club
Thursdays, August 4 and 18 from 10:00 am – 12:30 pm
Mah Jongg Club
Tuesdays, August 2, 9, 16, 23, and 30 from 12:30 – 4:00 pm