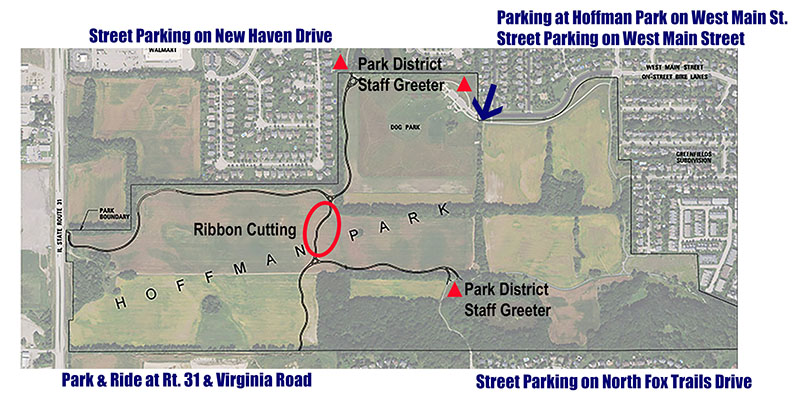 Celebrate the completion of the Hoffman Park trail extension on June 3 at Hoffman Park. Part of this event is enjoying the trail. There are three meeting spots around the trail. These spots are highlighted in the graphic above with a red triangle. Cary Park District representative will meet guests at these locations at 5:40 pm and walk with you to the ribbon cutting. The ribbon cutting will be held at 6:00 pm at the location indicated on the map below. It is approximately a 1/2 mile walk each way from the meeting spots to the ribbon cutting.
This trail extension connects to existing trail and provides a 1.8 mile loop through Hoffman  Park. In addition, the trail provides connections to the Village of Cary's Rotary Park, existing trail on Route 31, and neighborhoods along Hoffman Park. For those travelling by foot or by bike, the trail offers several benches along the route and a bike repair station with an information kiosk at the Route 31 connection.
This is the culmination of a project that began in 2018 when the Park District was awarded a $1,104,000 Illinois Transportation Enhancement Project (ITEP) Grant. The ITEP program is a 80% federal/state match with a 20% local match. Between the grant funds and the donated funds, there was no cost to residents for this beautiful improvement.
With the assistance of the ITEP Grant program and the American Recovery and Reinvestment Act, the Cary Park District has build over 6.5 miles of trail that connects to other resources throughout the community. In addition to the grant received in 2018, the Park District in 2010 also received a $546,216 ITEP Grant for the construction of the 1.70 mile Cary Community Trail.
As the season changes we encourage you to walk, run, or bike your trail system and be sure to head out to the new extension at Hoffman Park. Trail maps of the entire trail system within the Cary Park District boundaries are available at the Community Center located at 255 Briargate Road, Cary or you may view, download, and print one to take with you on your next outing.